Other Oculoplastics Procedures in Portland, OR
Oculoplastic surgery combines the precision and microsurgical techniques of ophthalmology with the aesthetic and reconstructive concepts of plastic surgery. In addition to blepharoplasty, ptosis repair and cosmetic eyelid surgery, below are some of the other procedures we commonly perform at Portland Oculoplastics.
Ectropion and Entropion Repair
Ectropion is the condition where the eyelid has relaxed and become separated from the eye. This results in dryness of the eye surface with associated blurred vision, burning, light sensitivity and frequent watering of the eye. Surgical correction is aimed at tightening the lower eyelid to return it to its normal position to restore proper ocular coverage and comfort.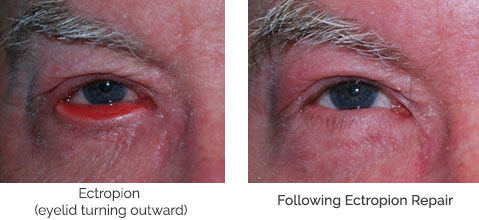 Entropion is the condition where the eyelid has turned inward causing the eyelashes to rub against the eye surface. This causes symptoms of blurred vision, foreign body sensation, mucous discharge and frequent watering of the eye. As with ectropion, surgical correction is aimed at returning the eyelid to its normal position to eliminate the irritation caused by the misdirected eyelashes.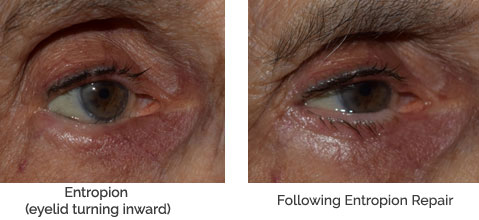 Skin Cancer Reconstruction (following Mohs)
The eyelid is a common location for skin cancer that usually results from a long history of sun exposure. Although it can often be diagnosed from its appearance, a biopsy a usually required to confirm the diagnosis. Treatment of eyelid skin cancer is best performed as a team effort where a Mohs surgeon removes the skin cancer and Dr. Sullivan repairs the resulting defect. Dr. Sullivan has an excellent working relationship with the Mohs surgeons in the Portland area, and same-day coordination can usually be arranged for the complete treatment course.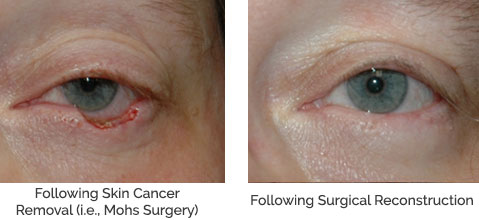 Eyelid Growth Removal (including Chalazion)
Although growths on the eyelids may sometimes represent skin cancer, most of the time they are benign. Removal can be warranted to eliminate the disfigurement they cause or in order to relieve bothersome symptoms like itching and scaling. A chalazion (stye) is an area of eyelid swelling and inflammation associated with blocked oil glands. In many cases, warm compresses can allow for resolution of these painful growths, but in some cases surgical drainage (lancing) is required to allow them to fully resolve.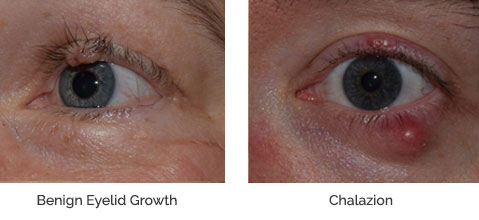 Botox® Cosmetic injections
Botox® Cosmetic (onabotulinumtoxinA) is used to treat unwanted facial lines by weakening the muscles that cause wrinkles with facial movement. Specifically, the area between the eyebrows (glabella), the crows feel lines, horizontal forehead lines and bunny lines are most effectively treated with Botox® Cosmetic. Dr. Sullivan served as first author in the inaugural on-line course for the American Academy of Ophthalmology (AAO) titled "The Use of Botulinum Toxin (BTX) in Ophthalmic Practice" and is an expert in the administration of Botox® Cosmetic.

"Both medically and aesthetically, the results were superb. My vision is much better, especially when reading at night. I experienced no pain, only mild discomfort. Oh—and my appearance! The "before" and "after" photos show an astonishing improvement, with no trace of stitches. Dr. Sullivan is truly gifted, which made it easy to place my full trust in him."
ELLEN SUMMERFIELD

Our Oculoplastics Office is Conveniently Located In The Heart of Portland's Westside Medical Community
NEW LOCATION NEAR ST. VINCENT HOSPITAL
10305 SW Park Way
Suite 203 
Portland, OR 97225
​Reserved parking just 100 feet from our entrance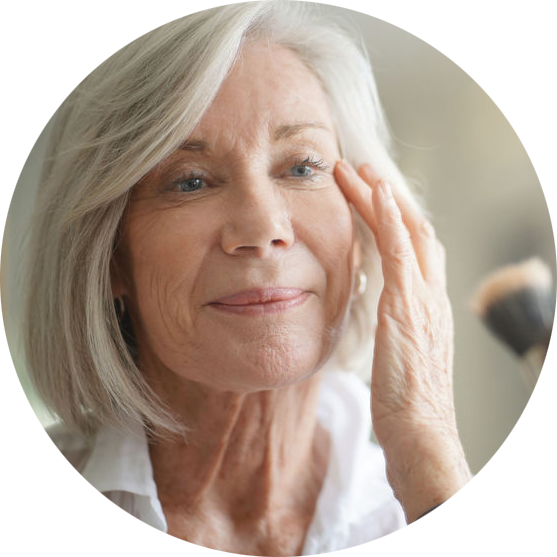 Ready to look in the mirror and love what you see?